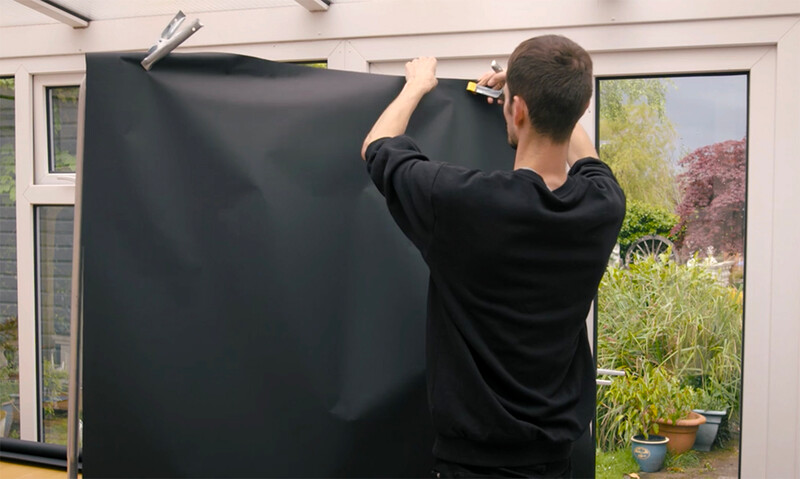 Posted on
Modyfikator oświetlenia – Rosco E276 Blackout
Filmowcy i fotografowie zawsze szukają nowych i ekscytujących modyfikatorów światła. Dlatego poprosiliśmy fotografa, autora zdjęć i ambasadora Rosco – Richarda Williama Preisnera, o pomoc w przedstawieniu naszego najnowszego modyfikatora oświetlenia – Rosco E276 Blackout.
E276 Blackout jest częścią gamy filtrów oświetleniowych Rosco e-color+. Materiał to nieprzezroczysta folia poliestrowa o grubości 3 mil (76 mikronów), która ma matowe/matowe czarne wykończenie i jest dostępna w rolkach 60"x20" (152,4 cm x 6,1 m).
Podczas fotografowania w plenerze czasami naturalne światło wpadające przez okna może być prawdziwym błogosławieństwem. Często jednak trzeba całkowicie usunąć to źródło światła z ujęcia. Will pokazuje, jak filmowcy i fotografowie mogą z łatwością tymczasowo zainstalować Blackout w oknie, korzystając z techniki opisanej w naszym Przewodniku instalacji filtrów w systemie Windows.
Rosco E276 Blackout może być używany do usuwania światła otoczenia lub odbitego, które wpada na scenę. Ta technika nazywa się wypełnieniem negatywowym i doskonale nadaje się do tworzenia większego kontrastu w ujęciu. Ponieważ Blackout ma matowe wykończenie, wspaniale pochłania światło, co czyni go fantastycznym rozwiązaniem do tworzenia negatywowych wypełnień. Po prostu nałóż Blackout na ramkę 2×3, 4×4, a nawet żelową 5×5 i ustaw go w dowolnym miejscu, w którym normalnie używasz flagi. Will zaznacza również, że Blackout można nawet zrzucić z rolki, używając uchwytu i stojaka C-Stand.